Replacing a bathtub, sink or shower can be very expensive. Fortunately, on the Gulf Coast an experienced alternative exists in Bath Masters who provide premium quality refinishing and reglazing that can save clients remarkable amounts of money,
February 16, 2018
It's just a part of being a homeowner that either over time or when purchasing a home, the bathtub, sink, or shower may not be up to their standards. Of course, replacing any of these items can be pricey, both in parts and labor. Answering the call for a more cost-effective option are Bath Masters. The company recently announced their 17th anniversary providing the extended Gulf Coast area with top bathtub refinishing, bathtub reglazing, tub refinish, and refinishing fiber glass tower services, all delivered by top experienced and insured professionals. The enthusiasm surrounding both quality of their work and the attractive price points is very high.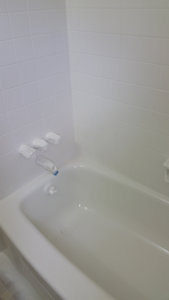 "Don't replace it, reglaze it," commented Mark Tiedman owner of Bath Masters. "We can get a tub, shower or sink looking like new, so what need is there to spend the extra money that could go elsewhere. We welcome potential customers to look at some of the bathtub refinishing and reglazing and sink reglazing projects we have completed. After 17 years we have seen it all and we have a solution for every problem. Plus our prices won't be beat."
According to the company, the Gulf Coast area they cover commonly includes Pensacola, Florida; Fort walton Beach, Florida; Mobile, Alabama; Foley, Alabama; Orange Beach, Alabama; Daphne, Alabama; Spanish Fort, Alabama; Baldwin County, Alabama; and Escambia County, Florida. For customers close to any of the areas listed it is recommended they give a call or send an email to see if Bathmasters are able to do a tub refinish or other refinishing work at their home.
Tiedman also pointed out that their bathtub refinishing and bathtub reglazing services are available for all kinds of tubs like steel, fiberglass, and cast iron styles. Nonslip surfaces can be added in the refinishing process to make a tub or shower safer to use. The materials Bath Masters work with are world-class and not available in any of the DIY kits available at home supply stores that often leave homeowners not only devoting a great deal of time and work to the job, but also come out in a less-than-ideal nature.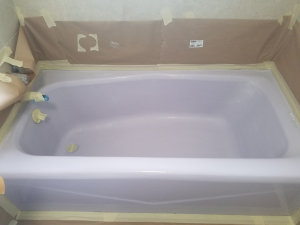 Total time for a bathtub refinishing, bathtub reglazing, sink reglazing or refinishing of a fiber glass tower is usually around two hours. After completion of the work they generally require 24 hours to set before they can be used without damaging the work done.
Professional results equals positive responses.
Even after 17 years feedback from customers continues to be positive across the board. Home appraisers from Pensacola, Florida to Mobile, Alabama will agree Bathtub Refinishing and reglazing is one of the greatest returns on investment you can make into your home.
Michelle S., from Pensacola, Florida, recently said, in a five-star review, "I couldn't be happier about how Bath Masters refinished our tub and shower fixing cracked tiles and getting it to look better than it ever has.  Plus the price was totally right.  We plan on having them do two of our sinks soon, the experience was so good." Previously contacted Rob's Refinishing and Bathfitter who were both a no show. Thankfully we found and hired BathMasters who we now know is the leader in Bathtub Refinishing in Pensacola, Florida and surrounding areas.
For more information be sure to visit http://www.bathtubrefinishinggulfcoast.com or call (850) 206-6076.